Thanks Cam!  Thanks Panthers!  Chill Media!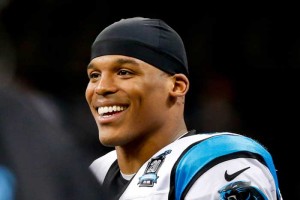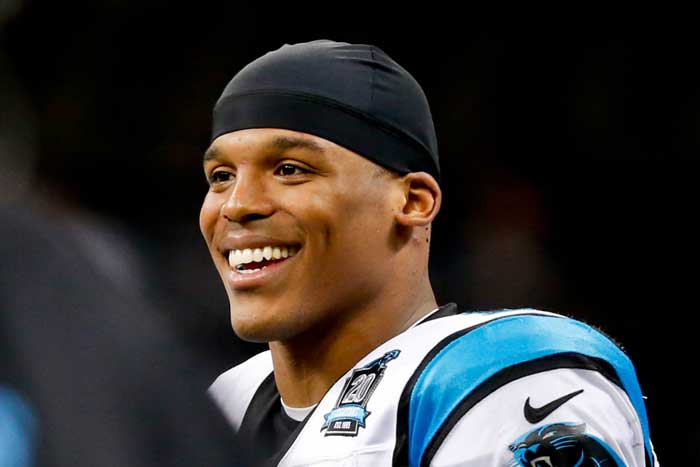 The media has been disappointing the past two days. They're searching for an angle to stir up controversy regarding Cam Newton.
"He's disrespectful for celebrating…"
Really? All of the kids that got a game ball handed to them must be SICK with disappointment.
And why in the world would the fact that he's an African American QB be a topic? He's a Heisman Trophy winner. He's up for MVP and has led his team to the Superbowl. What does the color of his skin have to do with anything?
I can pretty easily pull up the stats, and pretend that I know a ton about all the touchdown passes and rushing yards and all of the records he's broken. But, anyone who wants to celebrate him or ridicule him can do that. Here is what I know and want to share:
Three years ago he needed an attitude adjustment – and he absolutely did a 180 with class and grace and never set out to prove it. He just did it. He grew into who God programmed him to be. (And don't forget, he's only 26 years old!!)
You can't fake unbridled joy. Cam doesn't celebrate after a touchdown because he wants to shove it in the face of the opposing team (well, in most cases, but let's be reasonable…it's football crybabies!!!) He has made a quest to provide an unforgettable memory to a child after every touchdown and his teammates have followed suit.  And, he engages the entire stadium after the game!  His joy is sweet, authentic, and he WANTS TO SHARE it with everyone!
He and the rest of the team are very active in the community and volunteer religiously. Haters:  See this.  They're on the news all year long – bringing awareness to big and small causes. It's not for publicity. It's because this team has strong core values.
He could have lost his life in a car accident in Charlotte last year when his vehicle actually rolled over. He fractured his back. The news reported that he said he should have died, (but don't quote me…This is a blog, not a news report.) The point is – he bounced back. Now how many people do YOU know with back injuries that are now practically debilitated? He's a strong, determined man who deserves credit – not only for recovering – but also excelling.
He created the dab. Panther fans LOVE it. It's innocent and fun. Plus, it'scool. Cam and the whole team pulled Charlotte together the same way the Hornets did in the 90's. He's like our Del Curry and Muggsy Bogues. (By the way…did you see the facebook post of Steph Curry and Cam praying before a game in November?) Check it out.  
Don't HATE!
I can understand people wanting to find fault with him. After all, he and the Panthers have taken down everyone's team (except Denver so far!)
The biggest blessings with us going to the Superbowl as far as I'm concerned:
Leading up to the big game, the media will shine a light on our team and everyone will surely see what they do to raise awareness for charities. They don't do it for PR.  The innate character that each member of this team possesses will be acknowledged.
Those who hate Cam's "Superman" celebration will soon see that he IS a Super Man.  He's not spiking balls and pounding his chest after he leaps single bounds into the end zone.  He's sharing the love with KIDS, because he's a good guy.
Everyone who's team is done for the season can now relax, turn off the hate, and see the love. They'll watch the Super Bowl and see that Cam Newton is unbelievably talented – and a good man.  They'll also know that the Panthers are an ethical, community oriented, and talented team. We will win over a lot of fans and when that happens, there will be more people who live by the excellent examples the Panthers have set.
So thanks Cam (And THE WHOLE TEAM.) I'm so proud to be a Carolinian. Not only did you put us on the map once again, you represent us well.  Everyone will see what you're made of – and you're going to make a difference because you're setting a great example for so many now!!! Thank you!! Keep Pounding!!! #keeppounding #panthers #cam #panthernation #lassomoon