May 19, 2015, Charlotte, NC The Lasso Moon Agency is a digital creative agency led by two long-time marketing executives, Marc Pitre (formerly, Right Here Interactive) and Peggy Glassman (formerly, ACME Digital). The agency will focus on video production, animation, web design, creative consulting and digital marketing.
Glassman's background includes 11 years of television production experience prior to the past 6 years in digital marketing. As a self-employed agency owner, she wore many hats, from sales to writing and editing.
"I love being a business owner," she said. "It's exciting to be in full control of your destiny. It can also be scary. Marc and I started working together on a few projects about a year and a half ago, and before we knew it – we were teaming up on every job. He has taken away most of the fear you have when it's just you. We're a great team."
Pitre's experience with web design and development, applications and software development lend the technical knowledge that Glassman typically outsourced. Glassman brings years of writing and content development to the table, for which Pitre, hired outside contractors in the past.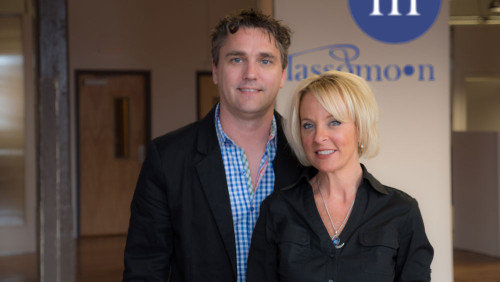 The two share a passion for video production and animation, which will be their main focus with Lasso Moon. They recently completed an upgrade to the new 4K Ultra HD video production gear, after shooting DSLR high-def video for 7 years.
"The clients we want to attract appreciate this level of technology," said Pitre. "We are in the perfect position to produce high-end videos for customers world-wide."
Lasso Moon's first video project is underway. Just back from a week on the island of St. John shooting and producing a video for their Bermuda client, Coral Coast Clothing, they're currently in the editing stages. "It's a dream assignment," said Glassman. "We can't wait to show the world this video!"
Pitre said, "We're doing what we love to do and got to shoot in some of the most picturesque beaches in the world. We thought we were so lucky to get to produce animation spots this past year, but this takes the cake."
Pitre and Glassman wrote and produced 20+ animation and whiteboard videos for clients like the NCAA and YMCA in 2014.
"We plan to grow this side of the business while maintaining our growth with clients who need strategic content development and dynamic digital platforms," said Glassman.
Lasso Moon has hired 3 employees: Erica Baxter, Partner Manager will manage the current agency partner relationships and lead new agency partnership opportunities. Emmanuel Loredo, New Business Development will focus on local B2B and B2C clients. Sara Howard, Copywriter and Social Media Specialist will focus on building the agency's visibility on social media platforms, and assist in writing content for Lasso Moon's clients.
"We've looked long and hard to find the best talent to join our team and we couldn't be more excited about this awesome group," said Glassman.
Lasso Moon will work out of Industry Charlotte, a co-working office in the NC Music Factory complex.
###
Lasso Moon, LLC is a Creative Digital agency located in Charlotte, NC.