This question is posed to us quite regularly, so I'll answer it here.  When we are hired to re-develop a website, we typically inherit our client's hosting provider. We usually roll with the punches and work with that provider, but have found that not all hosting companies are actually accommodating "Hosts."
Whether we are building a site from the ground up – or are responsible for a re-design, our preferred platform is WordPress. In our experience, bulk web hosting companies have been unable / unwilling to address issues that arise within the WordPress system, even if their hosting negligence caused a problem.
Then we found Flywheel. Flywheel ONLY hosts WordPress sites. They know WordPress themes, plugins, the structure and more inside and out. Not only can they help fix problems, they offer a lot of proactive suggestions.
So, it just makes sense for us to recommend that our client's host with Flywheel. By the way, we have absolutely no affiliation with Flywheel. We receive no commission or royalties of any kind by recommending them.  They just make our life easier. Here are 5 quick reasons why:
WordPress is the most commonly used content publishing platform in the world. That distinction also makes it very attractive to hackers. In our experience, a specialty company like Flywheel knows how to blend the maximum amount of protection, without hindering WordPress usage.
We've worked with companies whose hosting provider had the security locked down so tight, we couldn't do basic functions like installing plugins/themes. It takes many conversations and "chats" to convince them to loosen the restraints in order to perform simple tasks. This, in turn, makes the servers more vulnerable.
Flywheel is completely knowledgeable about the proper hardware/software configurations specific to WordPress. We have not had any problems with security on any of the sites we manage on Flywheel.  Yes, there will always be security risks, but they are minimized.
Reason 2. Speed.
Page load times can be slow on standard servers that are not optimized and balanced efficiently for WordPress.  Because Flywheel only serves WordPress sites, they optimize for quicker load times. Speed is crucial for client engagement and SEO. We don't pay extra to ensure that our sites load with maximum speed.
If you want worldwide fast performance or are running huge video or animation files, they also offer low cost Content Delivery Networks to further boost performance.
Reason 3.  Staging.

Specialty WordPress hosts like Flywheel offer a "staging" site.  This enables us to start with one copy of a website and when it goes live, we turn on a staging server (one click, nice and easy and it's a 100% copy of the live site).  This is so valuable because it allows us to continue development and make updates. Once we hand the site over to the client, their staff can manage the content and even experiment without fear of making a mistake on the live site. When the changes are done, one simple click moves all the changes from staging to the live site.
Reason 4.  Backups.
Flywheel's backups are really fantastic.  If ever there is an issue, it's easy to roll back your site. Let's say, even with all the security measures that Flywheel implements, someone does "hack" your site and puts up pictures of kittens or whatever.  No need to panic. Flywheel has a control panel that users can access to literally "roll back" to the version that is not "hacked." You're back up and running in minutes and flywheel will help you fix any holes that allowed the security breach in the first place. (Take THAT hackers!)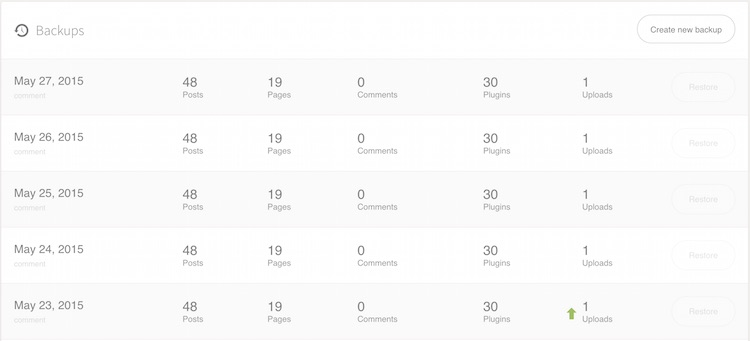 Also, if someone makes content changes that are not correct – you can simply roll back.  We haven't come across any bulk web hosts who can do this with a simple click.  Most hosting companies make backups a painstaking process, or offer none at all. In fact, before we found Flywheel, we've had instances where we set up the entire WordPress site, themes, etc. and somehow everything we set up was erased.  With no backups from the hosting company, we had no choice but to start over.
Reason 5.  Customer Support.
Flywheel has the best support team that we've ever worked with. Because bulk hosting companies focus on the server level, not WordPress, they really can't help us with many challenges we do come across.  Not only does flywheel do a great job supporting the hosting itself, but every one of Flywheel's staff has been extremely knowledgeable of WordPress as a platform.  They have gone the extra mile with suggestions and advice, not only to solve an issue, but to find options that address needs of our clients.
Yes, there are a growing number of WordPress specialty hosting companies out there, but our experience with Flywheel has been absolutely fantastic. They really are the best. Again, we are not compensated in any way by endorsing or recommending Flywheel.  Maybe they'll be kind enough to mail us a size Large Flywheel t-shirt, but other than that… nadda. They've made our life so much easier and we just wanted to share the love! If you have any specific questions about hosting and our experience with Flywheel, we'd love to chat! Send us a line and we'll contact you directly!